Okay, but what is value?
...and do my hands look weird...? 🍃
So last Fri-YAY, I co-hosted the first ever #DTCchat on Twitter and it was 🔥 🔥 🔥 
After an hour of jamming on email and SMS marketing, we had a major conclusion: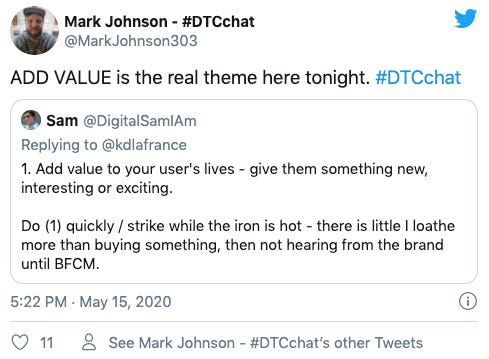 Later that evening, I was enjoying some of the natural medicines of Colorado when I thought to myself... 
"Wait. But... what is value….?"
"isn't it ~literally wild~ that animals live in my house?"
"and like, do my hands look weird?"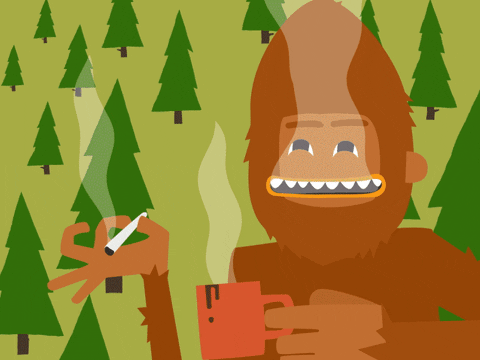 But that first one is actually a good question.
What IS value? How do you determine what your customers value? How do you CREATE value for other people?
There's a simple answer: Get to know your customers.
 But a simple answer isn't valuable to you, is it?
Didn't think so. So Imma do a little think-tank.
If I came into a DTC brand with the task "figure out what's valuable," here are a few things I would do:
Set up calls with as many customers as possible (yeah like, real phone calls)

Look through automated messages, previous emails, social activity, and other customer engagements to determine what they naturally respond to

Read through CS channels. Daily. 

Segment a list of highly engaged customers and send a very personal open-ended email that creates a 1-1 dialogue.

Build a database to collect findings from every interaction (Airtable is my fav).
As you get to know your tribe, you will begin to find themes within your interactions.
From there its creation, analysis, and testing.
Or in human terms.... Connecting, sharing, and growing.
As I create content, here are questions I use to hone in on value: 
Does this value their time? Am I getting across something they'll enjoy or find helpful in a form they can parse through efficiently?

Is it specific enough to the recipient, or am I using too broad a brush?

Will it open the door for engagement? Will it allow for a two-way conversation?

Is there enough depth to it that it goes beyond a simple google search?
Every brand will be different, so don't try to copy your competitors. Do the hard work and build your own unique relationships. That is how you stand out. 
If you missed last week's #DTCchat or want to review everything we gabbed about, I made a quick recap for you. There are a lot of really great tactical examples of "creating value" here.
Otherwise, here's to another week in the Q. Take a deep breath. Unclench your jaw. You're doing better than you think. ❤️
---
Til next time, buds!
-Krisscross LaFooble (and Cooper)